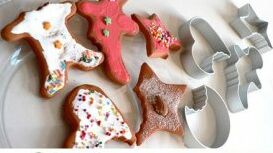 Thanksgiving season and Christmas can give you the crooked bleasure of puzzling your friends with above bite-out cookie cutters.
These cookie cutters made of cast aluminium have sharp edges with designs that give your guests the impression that you are serving cookie crumbs and not cookies to them. Guess what?? They are called ABC Cookies, which is the acronymn for Already Been Chewed Cookie cutter.
This cookie cutter is pure fun. They are available at the online retail store of Amazon for $10 in three different gingerbread shapes.