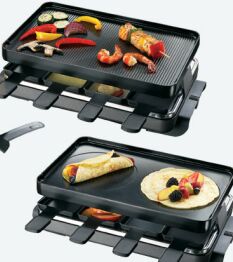 Classic Raclette Grill by Swissmar is the most elegant grill I have ever witnessed and I am actually tempted to buy it. This is a non-stick reversible grill, where one side has a crepe structure and the other side has a plain side.
The features are as follows:
Size – 14-1/2″ * 10″ * 5-1/2″ H
Weight – 11-1/2 lbs
Capacity – Grill Eight Raclette
Color – Black
Warranty – 1 Year.
To buy this product you have to visit 125 West and get this product at $94.95.