When the sweltering heat takes its toll, all I want to do is pleasure my taste buds to something chilled and refreshing that will beat the heat. Slush, mojito, iced tea, granita, frappe are there but ice cream holds its unique place among the all-time favorite chillers and frozen delights. The yummy frozen desserts called ice creams are made in countless flavors to suite different palates and are desired by millions around the globe.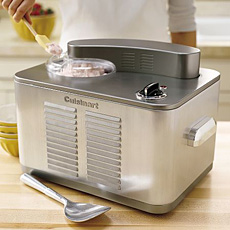 However, being a slightly weird foodie my passion for ice cream extends beyond the summer months. I would love if my favorite ice cream was available to me 24×7, twelve months of the year. I think some people might think it is a bit too much to ask but hey, what is a passion if you are not obsessed with it?
Therefore, the best way for those like me in need of ice cream anytime, is to prepare you very own favorite ice cream at home. This way you can avoid disappointments of not getting your desired ice cream at your local store. There are scores of ice cream makers available in the markets that will suit your need and budget. All you have to do is pick the right one.
One such entrant in the list of ice cream makers obtainable from the markets is the Cuisinart Supreme Ice Cream Maker. Priced at $300, the ice cream maker has a stainless steel body equipped with a built-in compressor-freezer that allows you to skip the need for pre-chilled or pre-frozen bowls. The ice cream maker possesses a 1 1/2 quart capacity and is provided with a fully automatic 60-minute timer. That is not all, you also get an ice cream recipe book with it to go about preparing your favorite ice cream.
Therefore, now after reading this, those with a penchant for ice creams know what needs to be done!
Source: Uncrate