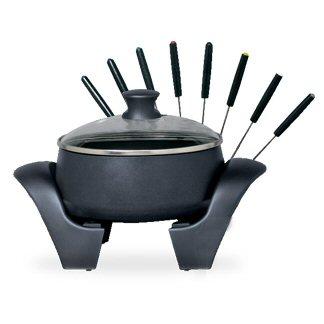 Check out this classy 3-Quart Fondue Pot that serves not only as comfy serving utensil but also easy and sexy for serving food.
The non-stick pot features a quick release power cord, temperature control and a glass cover that makes it easier for you to keep on checking the changing color of the food. If requires, the adjustable temperature control can be removed if you have to immerse the pot in the dishwasher. The pot comes with a set of 8 pondue forks, heat-resistant handles and support on the bottom so that you can serve the food anywhere by placing it on a countertop table top.
A must have kitchen utensil for all.
Read more: Westbend