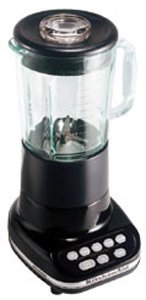 Blending can be the most time-taking job in the kitchen if there is a problem with the capacity of the blender with regards to the quantity and load. But the Blender – 5-speed – Black at Golda's is simply perfect as it gives control over the degree of fineness required in blending. The features of the blender are as follows:
1. Five blending levels of stir, chop, mix, puree, and liquify.
2. Jar and Blade design to uniformly blend the foods
3. Electronic mixing sensor to maintain consistent blending speed.
4. Powerful blade that caters to the blending task at hand.
5. Sealing ring at the bottom to prevent leakage.
6. 1.25 liter capacity.
7. Closely fitted electronic panel that does not trap food.
8. The lid in the cap can be used as a measuring cup.
9. Automatic Step-start feature to gradually increase acceleration
You can place an order for this simply perfect blender at Golda's for $165 only.